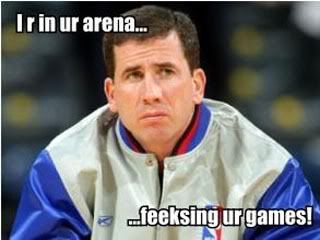 No matter how things ultimately turn out in the NBA Ref Game Fixing saga, one thing on which you can bet the farm is that there's a gaggle of would-be screenwriters out there hacking out script ideas to pitch to Hollywood. At least I hope that the eventual movie is a major motion picture and not some lameass ESPN production. The last thing I want to see is
John Turturro and his Mickey Mouse ears
running up and down the hardcourt over the span of several weeks!
I know the facts of the case are yet to be revealed, and as yet nobody has even been officially charged of anything, but this has all the makings for a summer blockbuster. You've got racial tension of a white official fixing a predominantly black game. You've got the FBI squaring off against yet-to-be-named organized crime figures. And you have the Jewish conspiracy question of "what did David Stern know, and when did he know it?"
We'll worry about
who will play what roles later
, once more names and faces are added to the mix, but for now, as they say in Hollywood, let's cut to the chase.
In other words, how does this movie end, or more specifically, what will be the fate of Mr. Tim Donaghy?
As I see it, there are four possible outcomes:
A) a long term reservation at the greybar hotel
B) a guilt-ridden suicide
C) a Soprano's style gangland whacking
D) a
Jimmy Hoffa
-esque disappearance
Smart money is on option A) above, as the other three more dramatic endings usually only occur in the cinema, but those are the ones that the screenwriters are hoping for.
A guilt ridden suicide is the most lame, as it makes the ref into a sympathetic character and robs the bloodthirsty viewers of the ultimate rub out, especially those who may have lost money on actual games Donaghy had officiated.
The gangland hit has the most potential, from a classic movie ending standpoint, but it's pretty cliche' at this point, so much so the final episode of The Sorpanos decided that sucking was a better option.
Option D) provides a lot of intrigue (and possibly a sequel) as it leaves a ton of unanswered questions. Did the mob get to him? Did the FBI dump him in witness protection? Did he escape and is now living on the lamb? Or did David Stern exercise his ultimate authority as the most powerful commissioner of the four three major sports leagues, and call in the hit himself?
So while we all have to wait to see what ultimately happens to this weasley bastard who has now called into question every ump, ref, and officiating crew working the major leagues.
Readers are welcome to use the comment area and try your hand at writing the final scene of Tim Donaghy: The Movie yourself. For my money, I'd like to see him and Bill Leavy holding hands while driving off the edge of a cliff Thelma and Louise style!
(this item was written before reading the similarly themed Bill Simmons piece on ESPN.com)