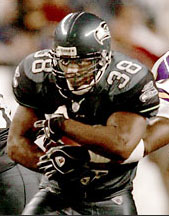 Seahawks.com does it again, bringing us another player interview, this time the star of the video is
Mack Strong
.
Apparently, Mack gets to pick the music that plays during their workouts in the weight room, and he's not a big fan of grunge or screeching rock 'n roll.
"We play music that's going to get us inspired to go in there and lift weights," says Strong. "Only when we've got some guys that are playing that ear-scratching rock & roll or grunge music do I have to go in there and change it. That's the stuff that makes my ears hurt."
Coming into his 13th year, and threatening to move up to 3rd place on the all time Seahawks record for number of games played, Mack understands the importance of the off season training programs.
"It starts early to come together as a team," says Strong. "You work out as a team, and this is the tough part of football right here: getting better in the weight room. As you're improving and your teammates see you improve, it makes a difference for us as a team."
To view the video in Windows Media Player, click on the picture of Big Mack above.
(memo to Seahawks.com - while we love the player interviews, we've seen
enough
of guys on the chin-up bar already!!!)