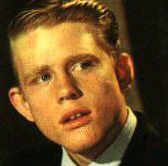 While driving around at lunch today, I had to listen to Dan Patrick piss and moan about how NFL Commissioner Richie Cunningham is teetering on a slippery slope by anointing himself Judge and Jury in meting out these suspensions.
To this I say BULLSHIT!
This is the same Dan Patrick that lauds the unilateral power that David Stern wields over his league, and even used the fact that Sterns provided no wiggle room when he suspended Ron Artest for the season as an example while discussing the "two weeks off for good behavior" clause in the Tank Johnson sentence.
Hey Dan, if you want to know why Richie is offering
LoveBug
the ability to reduce his suspension from eight to six games, just look at the schedule.
The Bears open at San Diego and then travel to Kansas City and Dallas, then come three divisional games.
Do the math Dan. 3 + 3 = 6
Not only is the "2 weeks off for good behavior" clause a clear message that Richie wants his players to act as cool as Fonzie on and off the field, but an effort to make it so that each of the three Divisional opponents plays the Tank-less Bears lineup.
Say what you want about the adult-Opie, but you can't say he's not fair.
Of course, don't be surprised if Matt Millen sends Tank Johnson free tickets to the Midwest Rifle and Gun Show, because if he fucks up during his suspension, the Lions, who play in Chicago in Week 8, wouldn't have to face LoveBug at all this season.